I had a fairly tough august and September on Specks in traditional waters of the eastern shore Islands.  Fishing has been good but Specks have been tough to come by.  However, after some persistant searching and a chunk of luck I've tripped over a pattern that is producing big Specks!  Gotta love a little luck!  Stripers have grown lately!  Catching some Stripers up to 25″ on the light sticks and some surface activety to boot!  All good stuff!  I'm catching just about all my big Specks on BKD's  www.basskandydelights.com  .   Paddle tail plastics and gulps are working great also.  Time of day doesn't seem to matter as much as current and water level.  I've been locating Stripers on rock, wrecks, stumps and current rips……most are sub-legal but close and some are nice keepers!  Specks are irratic in location….i've caught them lately in current rips and in open water near grass but not in the grass…….they have been mixed in with schooled Stripers.  On some days the water has been gin-clear and I could see dozens of Stripers chasing a hooked fish and sometimes a Speck would be with the Stripers. Persistance definelty has been the key for me…..here are some recent shots of some great fish!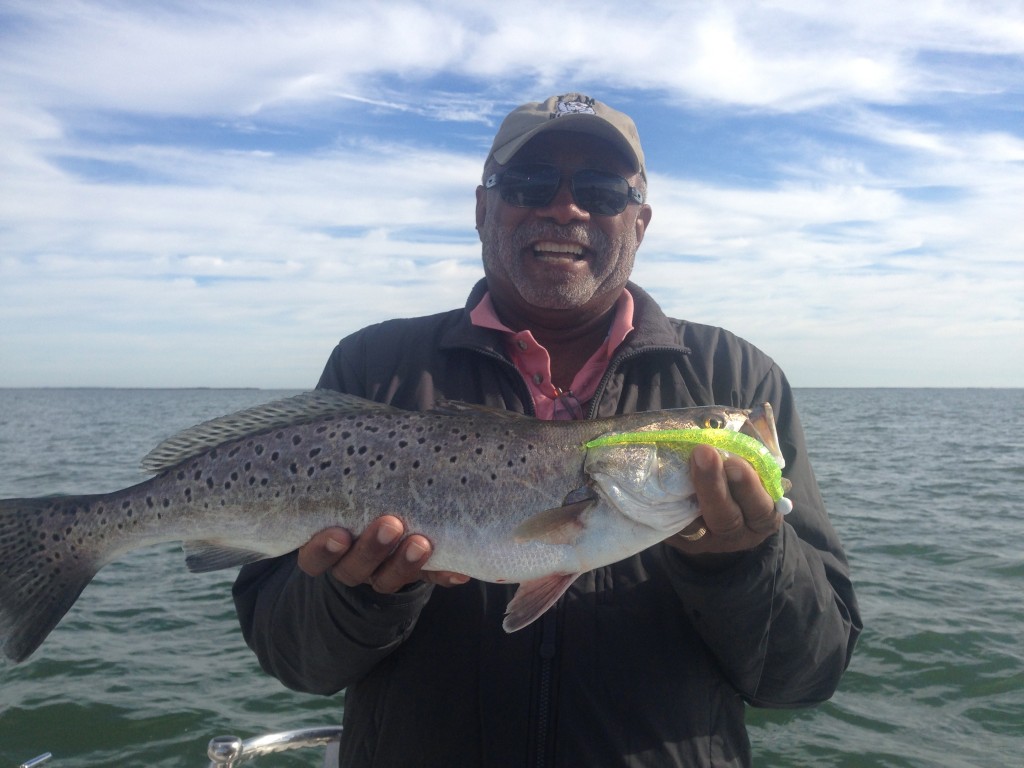 MIke and his first BIG Speck…..congrats!
Several other specks have been caught along with countless Stripers…..the weather is great…the bugs are gone and the fish are thick!!!  Good stuff!
CURRENT WALK-ON DATES AND AVAILABILITY 
Sunday, 29 Sep 13- BOOKED SOLID
Tuesday, 1 OCT 13-Booked Solid
Friday, 4 Oct 13- Booked Solid
NEW TRIPS COMING UP SOON!
For Information on current walk-on trips go to http://www.icontact-archive.com/vPmWQS8mpdRnLJA5MkMWck9ocD4oRkJZ?w=3
\