WALK-ON TRIP AVAILABILITY
THURSDAY, 27 Mar 2014, 630am to 1130am- 2 spots available
SUNDAY, 30 Mar 2014, SUNDAY IS BOOKED SOLID…..sorry! Will be putting up more walk-on trips soon……
Details for walk-on trips, scroll down
Today is a day I've been waiting for all winter.  The arrival of a great bunch of nice Stripers!  Typically we have a good number of Stripers all winter in the Calvert Cliffs Nuclear Power Plant outflow.  This winter has had hardly any for most of the winter, really bad catching!  The Bay is beginning to warm and fish are moving around now and some fish moved into the flow.  Don't know if it will last but it sure was good today!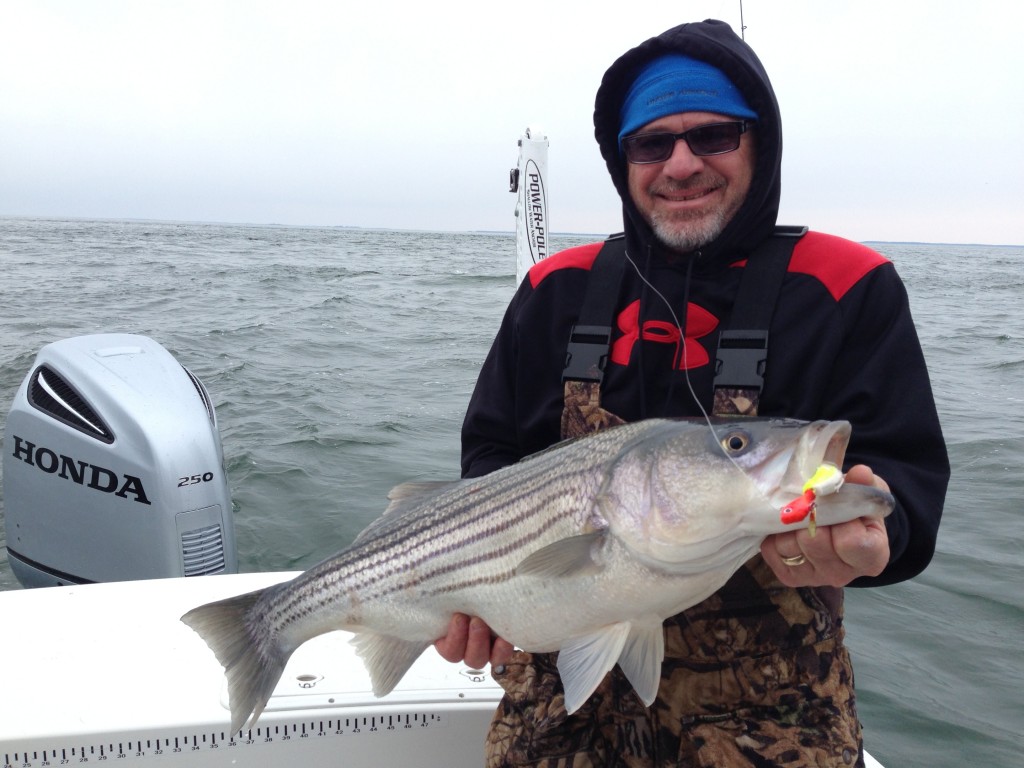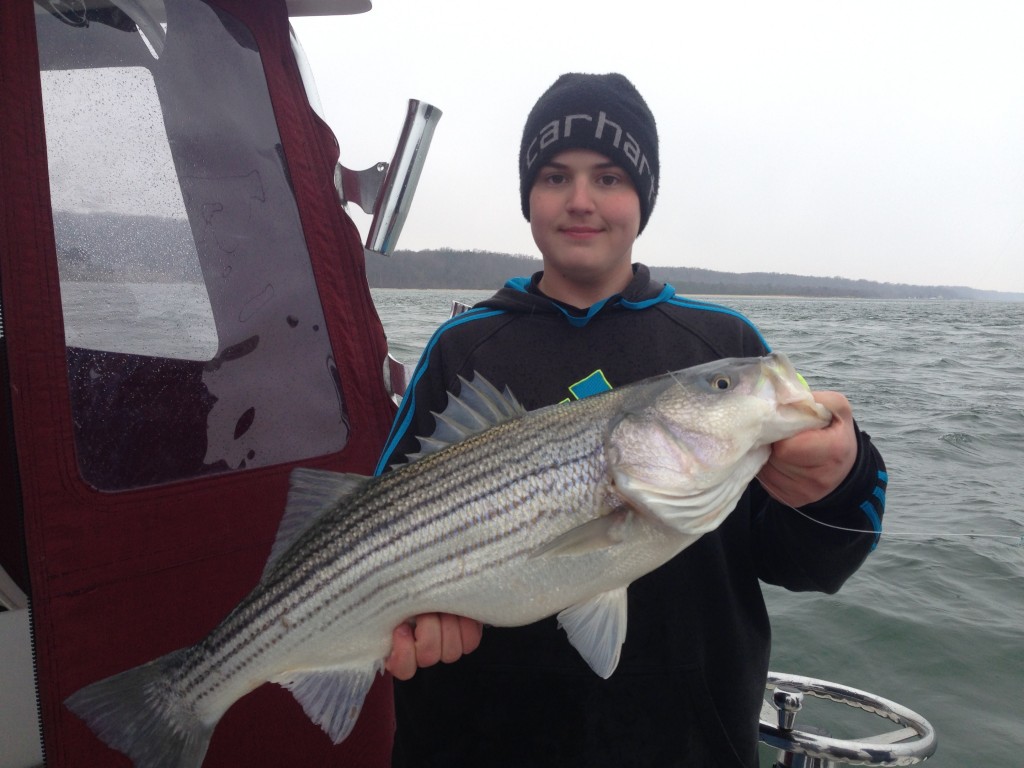 Incredible father/son duo of Mike and Noah…..these guys can flat out catch fish!  Mike brought out some cool jig heads that are going on the market at the Solomons Fishing Fair next weekend!  I really like the jig heads!  Spinner blade on the jig head really creates some great visual and vibration creating a great combination with a 6″ or 10″ BKD  www.basskandydelights.com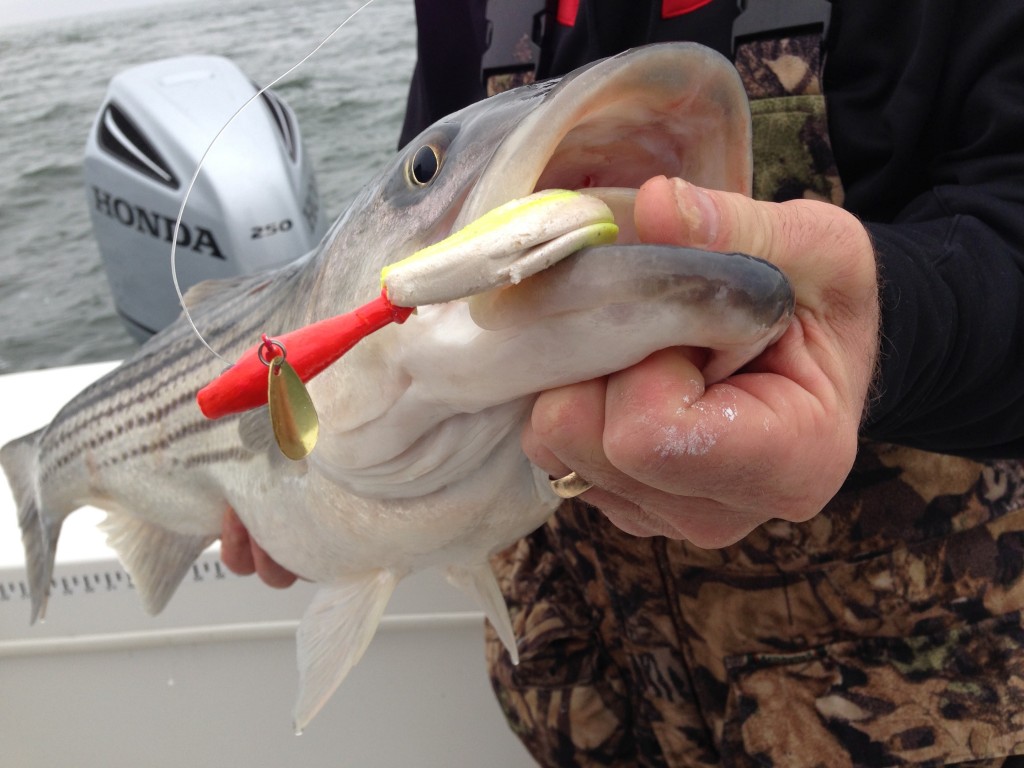 The spinner Jig-Head really drew  great attention today!   The plastic in the picture is down a bit…….when fishing,  the proper position of the plastic on the jig head is just about up to the spinner blade.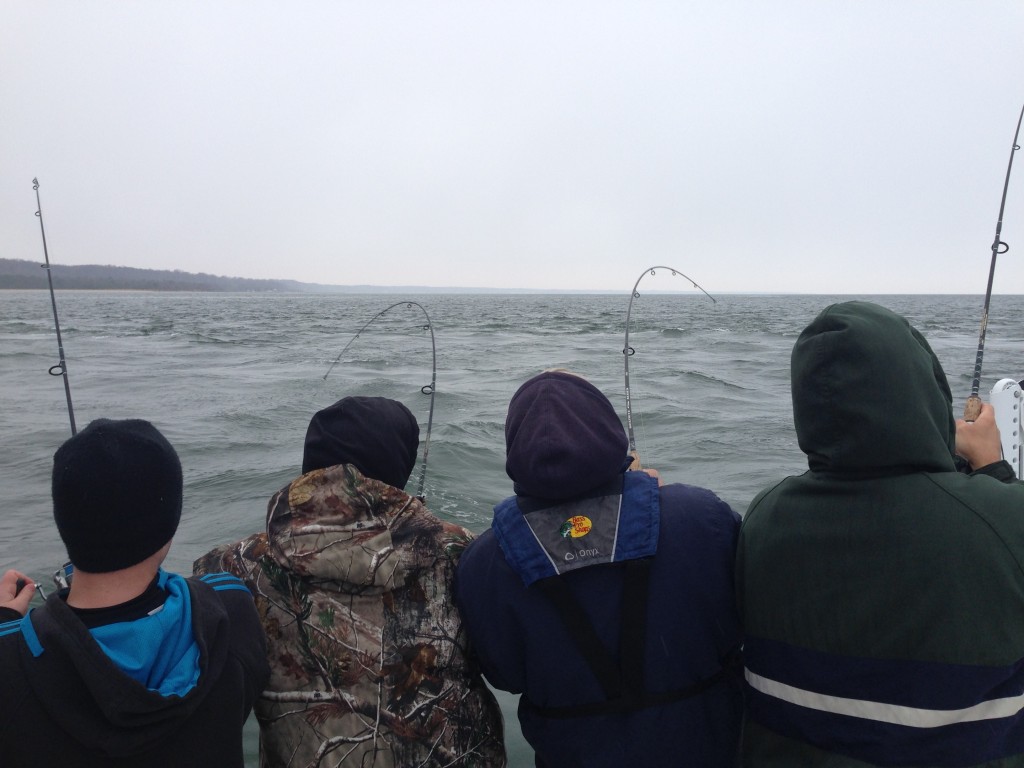 A sight to behold……4 rods bent using light tackle and the fish are really nice…..mostly 27-32″…..many fish today over 38″ and up to 42″!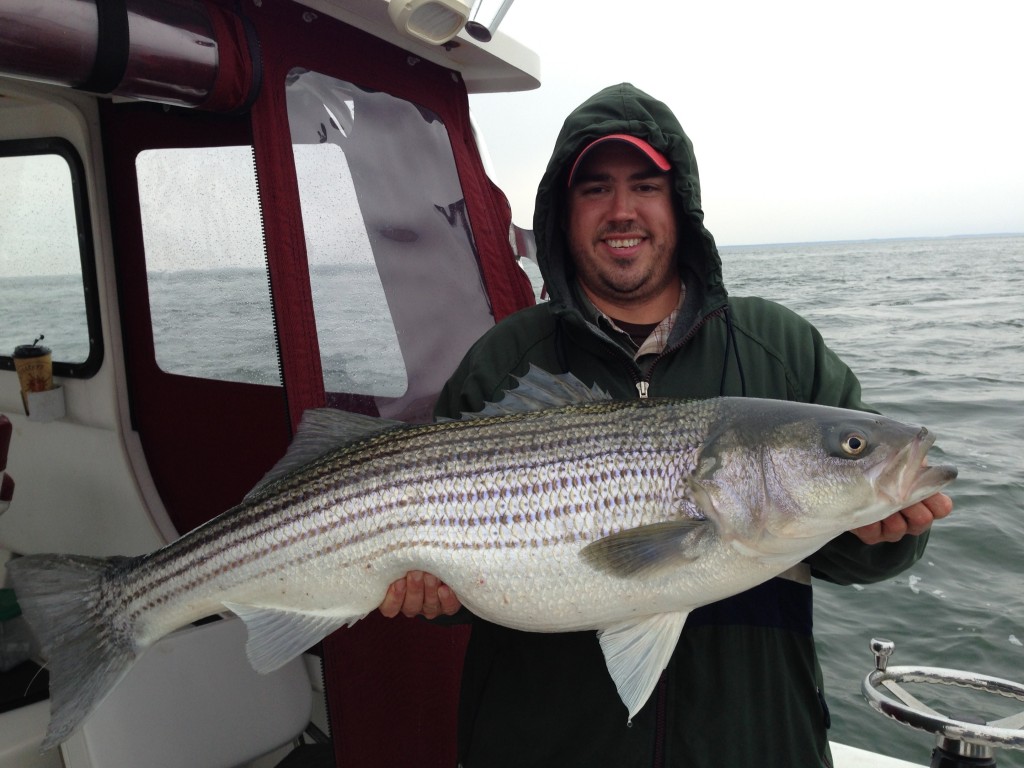 6″ and 10″ Bass Kandy Delights were the ticket today!  Chartruese Glitter and Purple Glitter were it!
Let's hope things keep on truck'in!  I'm starting at the Susquehanna Flats on April 12.  From now until then I'll be fishing as much as possible at the Calvert Cliffs Nuclear Power Plant.  I do have several days available to book between now and then and will be opening up Walk-On trips as well……let's go fish'in!!!!!!
Walk-On Trips Available Now!
Fish have moved in and the bad weather is hopefully moving out!  A good Combo!!!!
Thursday, 27 March 2014- 630am-1130am, 5 spots available-weather report is south 5-10 knots as of now…..great wind forecast!
Sunday, 30 March 2014, 2 trips!  630am-1130am, booked solid,  and 1pm-6pm-booked solid
-Cost is $90 each
-I provide all licensing,  baits and tackle…..cabin is heated….great way to learn how to jig and meet some great folks
-We will launch from the Boat Ramp at the Solomons Island Bridge
-Bring what you want to eat or drink
-Dress for the occasion…you can always take some off
If you would like to go on one of these trips or have a question give me a call at 703-395-9955